Columbia Sportswear Company (NASDAQ:COLM) is down about 5% in the last five days after being significantly downgraded by Bank of America right after their publication of the results. Total one-year losses are now approximately 25%, with 17% of these losses attributable to year-to-date performance.
While total quarterly revenue of +$762 million missed estimates, the company beat GAAP EPS by +$0.17. This pace was coupled with an upward revision in full-year diluted EPS to a range of $5.70-$6.00 from $5.50-$5.80.
Also, the shortfall was only +$1 million. Coupled with a +$500 million increase in the company's stock repurchase authorization and a full-year forecast of 16-18% net sales growth, the results don't look quite as negative as the stock price movement would indicate.
In 2022, favorable pricing actions are expected to support net sales growth across all brands and geographies of the business. Despite inflationary headwinds affecting household budgets, the United States, along with Canada, should be the main drivers of growth.
The rise in in-person gatherings, increased interest in outdoor recreation, and the growing precariousness of work are all tailwinds for the company. At just 14 times forward earnings, the current pullback to 52-week lows has presented a great opportunity to add a COLM stock wardrobe to the long-term portfolio.
Double-digit sales growth
For the three months ended March 31, 2022, COLM recorded total net sales of +$762 million. This is a 22% increase over the same period last year.
Within their direct-to-consumer (DTC) line of business, brick and mortar (B&M) grew 22%, which was slightly higher than the 21% increase attributable to e-commerce. B&M's increase coincided with improving travel levels as consumers continued to return to in-store shopping.
Wholesale trade also increased by 22%. Sales, however, would have been even higher had it not been for subsequent receipts and shipments of their Spring 2022 products.

Geographically, sales increased by more than 20% in most regions, with the exception of Latin America and Asia-Pacific. Steady sales to China due to the country's strict COVID mitigation efforts caused a slowdown in the region, which otherwise held up strongly with a 14% increase.

Gross margins decreased by 170 basis points, due to higher freight costs. But performance was even better than internal expectations due to a favorable full-price selling environment. From an operational perspective, lower-than-expected general and administrative expenses partially offset the lower margin, resulting in a decline of only 30 basis points compared to the first quarter of 2021.

Looking ahead, management reiterated its outlook for net sales growth of 16-18% year-over-year. This is despite the ongoing supply chain and inflationary pressures that are expected to last throughout the year. Additionally, increased share buybacks are expected to contribute in part to higher diluted EPS of $5.70 to $6.00, which would increase 7% to 13% year-over-year.
Strong momentum at SOREL
As the momentum spread across all brands, SOREL led the way higher, up 37% year-over-year. The main contributors to SOREL's growth are new sneaker styles and the growing popularity of "corner" fashion style.

While SOREL is traditionally known for its cold weather stylesin the last trimester, Kinetic Impact Lace The sneaker was the top-selling style on the SOREL site, according to management. As in-person gatherings continue to increase, the company has also seen increased demand in the SOREL Out 'N About collection. These are just a few highlights of the brand's growing presence in the multi-billion dollar sneaker industry.
While winter styles command higher prices, sneaker reach and more fashion-oriented styles are more all-encompassing in nature and are expected to contribute significantly to future revenue growth. As the company continues to invest in creating demand for this brand, management is confident it has a clear path to achieving its goal of turn the brand into a $1B+ business.
Exhibition limited to Russia
While COLM had no direct operations in Russia, they had indirect exposure through a third-party international distributor. During the first quarter, the company suspended all new orders from the distributor.
During the earnings call, it was revealed that the majority of Spring 2022 shipments to the Russia-based distributor took place in the fourth quarter of 2021. For the current quarter, shipments took place before the start of the conflict and were minimal in scope.
Future distributor sales that were included in the original forecast have been removed for the revisions provided in the earnings release. Much of the impact will be felt in Q2, as this is typically the largest shipping quarter for the Russia-based distributor. The second quarter guidance has been lowered accordingly to reflect this impact.
However, on an overall full-year basis, the impact only represented 2% of consolidated net sales. In addition, the expected headwind of 2% should be offset by a strengthened order book for fall 2022 in many other global markets.
Sales in the EMEA region remained strong, despite the current crisis. In the quarter, total net sales increased by 42% in the region, driven by the strong growth of Europe Direct, which grew by more than 30%.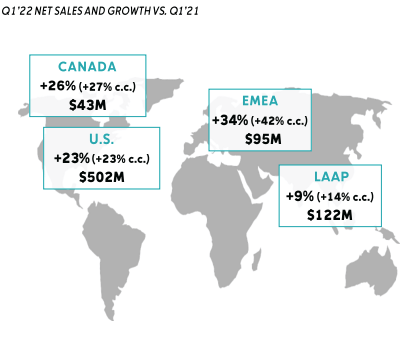 Solid financial position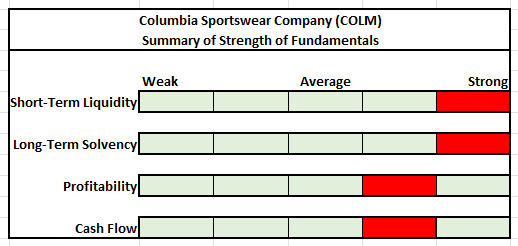 During the quarter, the company repurchased +$217 million in common stock, representing a 4% reduction in the total number of shares outstanding since December 31. Additionally, at the April board meeting, the board approved a +$500 million increase in its share buyback authority.
Shareholders also received +$19.2 million in total dividends of $0.30 per share, a yield of 1.45% at the current price. Dividends represented just under 30% of net income, indicating a high degree of hedging.
COLM, however, reported negative operating cash flow for the current period compared to the +$110.9 million generated last year. This decrease is attributable to a significant increase in inventory purchases to support demand. At the end of the period, total inventories increased by 36%, composed mainly of current and future seasonal products.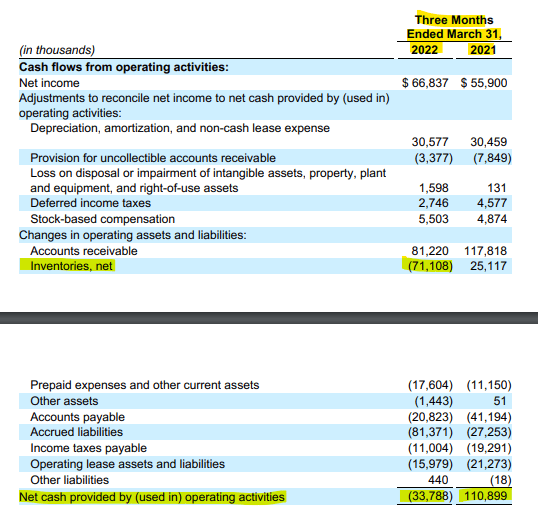 Even with increased repurchase and inventory activity, COLM ended the first quarter with +$610 million in cash and short-term investments and no bank borrowings. Additionally, total current assets were more than 3 times greater than total current liabilities, suggesting minimal risk of a negative liquidity event.
Risks to consider
The company's challenges to date have been driven primarily by supply-side dynamics. Although sales held up well during the quarter, they would have been even higher had it not been for shipping delays. In addition, margins were negatively impacted by inflationary pressures concentrated in freight and fuel.
While these headwinds are expected to persist, there is a high risk that the company will also begin to experience a decline in sales due to the effects of inflation on household budgets. If consumers begin to reduce their purchases, COLM's products will be among the first to be reduced from consumer spending due to the discretionary nature of their product offerings.
Given the large build-up of inventory in anticipation of higher demand, the business could be exposed to significant losses if it were to hold excess inventory.
Shares of COLM were recently downgraded to $80 from $108 by Bank of America on concerns about rising commodity costs on margins. With polyester prices up 30% year-on-year and cotton prices up 25% year-to-date, the company believes next year's margins will be negatively affected. This should result in a difficult near-term outlook. Additionally, the company expects lower revenue in the second quarter, which would compound the impact on margins in the next quarter.
Conclusion
COLM hit a fresh 52-week low this week and is currently trading at 14x forward earnings against a five-year average of 22x. Although the company reported strong first-quarter results, investors were disappointed with moderating sales growth in March. Other concerns included rising costs and exposure risks from China and Russia.
While the concerns are valid, they overshadow the overall strength of the business. Sales were again up double digits outside of North America and total exposure to Russia amounts to just 2% of total net sales. Excluding the Russia factor from the forecast, total net sales in 2022 are still expected to increase by 16-18% year-on-year.
Additionally, the company's finances remained strong, despite an increased level of buyback activity and inventory purchases. In the absence of bank loans and abundant cash, liquidity and solvency risks are limited.
Entering a multiple of 2x futures sales at COLM's current price levels would yield a target price of around $115, which would indicate an upside of almost 40%. For perspective, COLM has historically traded at 2.20x sales, which is down slightly from the index average of 2.7x.
Additionally, COLM's current EV is approximately 9x EBITDA. In contrast, VF Corporation (VFC), the parent company of The North Face, currently trades at an EV/EBITDA multiple of 13.7x. At this price, the long-term portfolio would benefit from a new wardrobe made up of Columbia Sportswear.
Source link